Have you just installed a douglas fir wood terrace ? Or have you just finished building your douglas fir siding? Your new douglas fir is a wood that is naturally very resistant to external aggression. You may be wondering whether maintenance is necessary and how to protect douglas wood? There are many products available to maintain douglas fir wood. We can help you to see more clearly by showing you the special procedure for treating new and raw douglas fir wood.
WHAT IS DOUGLAS FIR WOOD?
Douglas fir is also known as Oregon pine or Douglas fir. It has a small amount of sapwood. It is often associated with a pinkish colour when it is rough and freshly cut, and will take on a pretty blond colour after a few weeks of exposure to the sun's UV rays. Douglas Fir can also be found with a brown or greenish colour when it has been autoclaved.
Douglas fir is a wood that hardens as it ages, making it naturally very resistant to external aggression (wood-eating fungi, woodborers). It is much sought-after for the construction of cladding or terraces because of its mechanical properties and good natural durability. It can be used without autoclave treatment because it has a class 3 use in its natural state (outdoor use out of contact with the ground).
This type of wood is all the more interesting because it grows in our regions, making it an environmentally sound choice compared to exotic woods imported from other continents.
IS IT COMPULSORY TO MAINTAIN A DOUGLAS WOOD TERRACE OR CLADDING ?
The maintenance of douglas fir wood is not compulsory from the point of view of its mechanical durability but it is recommended to preserve its aesthetic qualities. In fact, raw Douglas fir wood exposed to the elements without maintenance will begin to tarnish after 3 months and will turn grey after 6 months on average. If you like the greying effect of the wood, you can leave it untreated. However, be careful, the wood will turn grey depending on the exposure and the result will not necessarily be uniform. Beyond 6 to 12 months, Douglas fir wood tends to favour the development of surface mould, or biofilm, on the most humid and sapwood-rich areas. This can be seen by the appearance of a few black spots which will gradually turn into more or less extensive black patches or zones.
WHICH TREATMENT FOR DOUGLAS FIR WOOD ?
If you wish to preserve the original appearance of your douglas fir and at the same time protect it from UV rays or humidity (and thus avoid greying or blackening of the wood), we advise you to use a saturator. You may be wondering: which douglas fir saturator to choose? We recommend the Terrace Wood Saturator. for your douglas fir terrace. For your douglas wood siding, we recommend Siding Saturator SB600. You may be asking yourself: why use a saturator and not a stain or oil ? Our saturators, unlike stain, are non-film-forming products. They will preserve the natural look and feel of the wood, which is why we recommend these products for the treatment of exterior douglas fir wood. Conversely, stain will create a film on your wood, which will cause your douglas fir to lose its natural appearance and will require sanding during maintenance. As for the oil, its durability is much less over time (maintenance every 6 months) compared to our saturators. They are more difficult to apply because they absolutely need to be wiped off so as not to leave a sticky finish. They also tend to favour the appearance of mould (blackheads).
HOW TO TREAT NEW DOUGLAS FIR WOOD ?
Have you just acquired your wood? You may be wondering: should you treat douglas fir ? When it leaves the factory, new douglas fir wood (without autoclave treatment) can have an extremely smooth, even "glossy" finish, which makes it difficult to impregnate. If you apply a saturator to new douglas wood with a "glossy" finish, your product will not penetrate as well. It may remain on the surface and not protect the wood properly. In the worst case, the saturator can create a film on your douglas and be removed prematurely. To avoid all these inconveniences, you should wait until your wood "opens". We advise you to wait 3 weeks of exposure before caring for douglas fir. If you do not wish to wait that long, you can brush your douglas fir with a mixture of hot water and black soap. We advise you to use Liquid Black Soap SN800. This step is relatively easy in the case of a douglas fir terrace.
WHEN TO RENEW THE MAINTENANCE OF A TERRACE OR DOUGLAS SIDING ?
For the treatment of outdoor Douglas fir wood, everything depends on your region: high humidity, strong exposure to the sun... You must adapt the frequency of your treatments according to your region and its climate. If you don't like the grey effect at all and want to keep the original appearance of the wood as it was on the first day, you will need to treat your wood more regularly. We recommend that you apply a douglas fir treatment product as soon as the first changes in colour occur. On average, we observe a treatment frequency among our customers of around once a year to maintain a douglas fir decking and every two to five years to protect a douglas fir siding.
WHAT TO DO IF THE DOUGLAS FIR WOOD HAS TURNED GREY OR BLACK ?
Have you waited too long to protect your douglas fir wood deck or new siding? Are you seeing your wood thinning? A greying effect? A darkening? To reduce this effect and restore your douglas fir to its original appearance, we advise you to use a wood degreaser such as Degreaser DG105 for grey surfaces or a cleaner-degreaser such as Wood Cleaner N100 (or its concentrated version Concentrated Wood Cleaner N140)for blackened surfaces. After renewing the surface condition of the douglas fir, apply a saturator to protect your wood. Without it, the greying or blackening effect will reappear.
Example of the renovation of a grey douglas wood terrace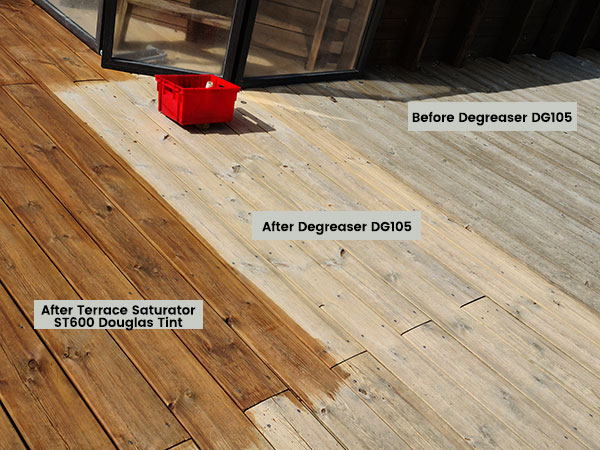 Products to maintain your douglas fir wood